Local Information
Meeting Venue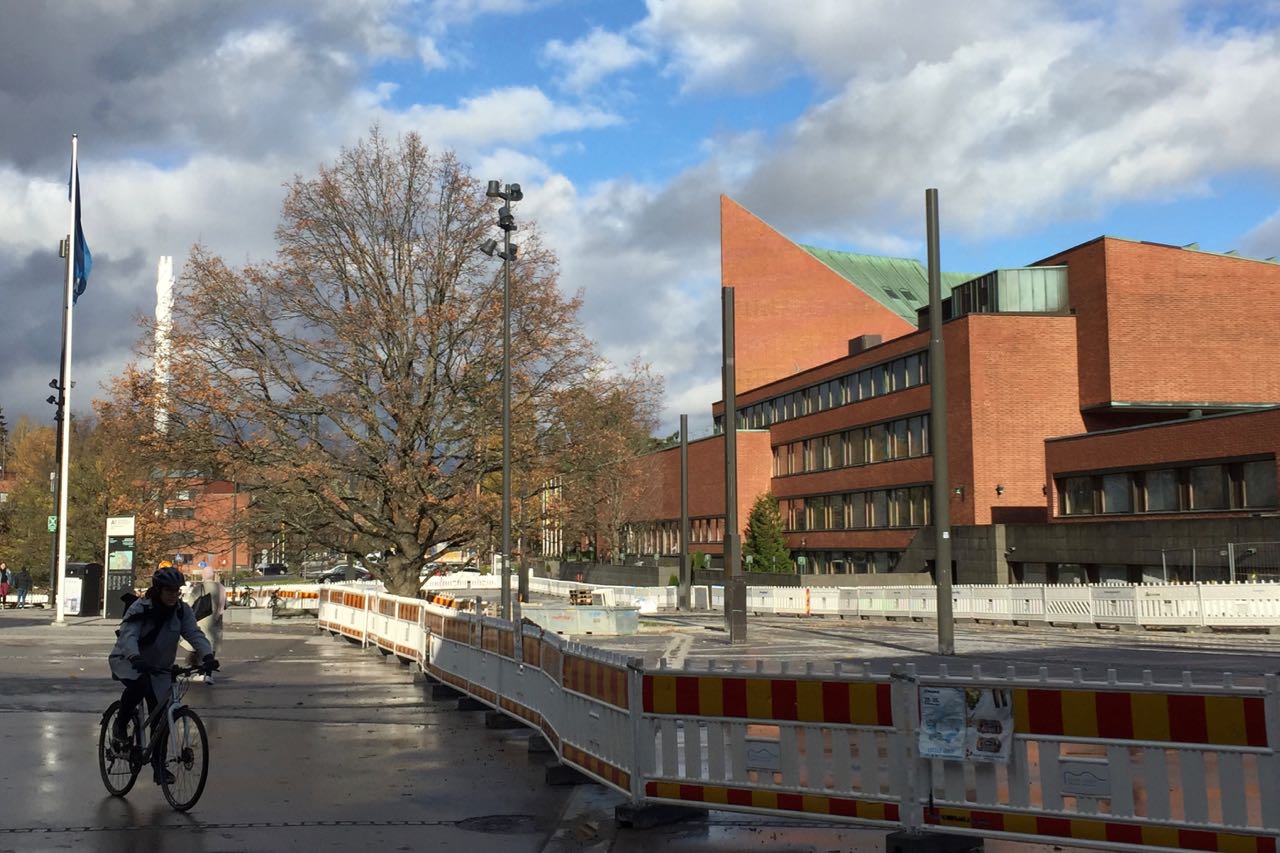 The conference venue is the architectural centrepiece of the Aalto Otaniemi campus, the Undergraduate Centre (formerly the main building of the Helsinki University of Technology). The building is located right next to the Aalto University metro station: the image on the right shows the view from metro station Exit A towards the main entrance of the building. (There is some light-rail construction going on on the campus, so you will need to make a small detour around the construction-site fences to get to the entrance.)
The Undergraduate Centre is indicated as Building 1 on the campus map below. The metro station is part of, or technically below, a building complex called Väre, which comprises Buildings 67, 68 and 69 that host the School of Arts, Design & Architecture, the School of Business, and the A Bloc shopping centre, respectively. Entrance/Exit A of the metro station is at the A Bloc building.
The main conference takes place in Lecture Hall B of the Undergraduate Centre, and the workshops in nearby Seminar Room M240. Both of these are located on the second floor of the building, and the detailed locations are marked on the floorplan below.
Lunches
The campus has
several student, faculty and commercial restaurants and cafeterias
, many of which are located near the Undergraduate Centre building. For instance:
Excursion and Dinner
The conference excursion on Thursday afternoon comprises a tour of selected Helsinki city sights: a guided visit to the Temppeliaukio Church, a brief look into the Helsinki Central Library Oodi and a guided visit to the Amos Rex art museum.
The conference dinner following the excursion is served at restaurant Vaakuna 10th Floor. The restaurant is located at the top floor of the Sokos department store/Vaakuna hotel building right across Mannerheimintie street from the Amos Rex museum. In case you are early or late to the dinner, please be advised that while the department store entrance is on Mannerheimintie, the hotel/restaurant entrance is on the other side of the building on Asema-aukio (Railway Square). This has caused some confusion at earlier events.